Several communities in southwest Rocky View County, including Bragg Creek, Redwood Meadows, and the Tsuu T'ina Nation, experienced high winds on Dec. 1, resulting in thousands of toppled trees, long-lasting power outages, damage to critical infrastructure, and a fatality.
The power outage came after southern Alberta experienced high winds of more than 130 kilometres an hour on the evening of Nov. 30. A wind warning was issued by Environment and Climate Change Canada for southern Alberta, stating damaging westerly wind gusts approaching 140 kilometres an hour were occurring in the Foothills.
On Nov. 30, Environment and Climate Change Canada stated the wind was liable to cause damage to buildings, bring down trees, or toss loose objects.
According to Rob Evans, Redwood Meadows Emergency Services fire chief, local calls started coming in just before midnight on Nov. 30. The reports indicated the heavy winds had resulted in toppled trees bringing down power lines, which resulted in a large grass and bush fire south of Priddis.
"We spent the night at that fire scene. Our crews came home early in the morning and got everything ready again," he said. "Right around 10 a.m., we had reports that a gentleman was trapped by a tree."
When crews arrived in West Bragg Creek to attend to the individual, Evans said they discovered a tractor had rolled over on top of the man while he was clearing trees.
"Unfortunately, he succumbed to his injuries on scene," he said.
Evans added the man who was attempting to clear the downed trees was in his 20s or 30s and was a resident of West Bragg Creek, but could not disclose further information about the resident as of press time.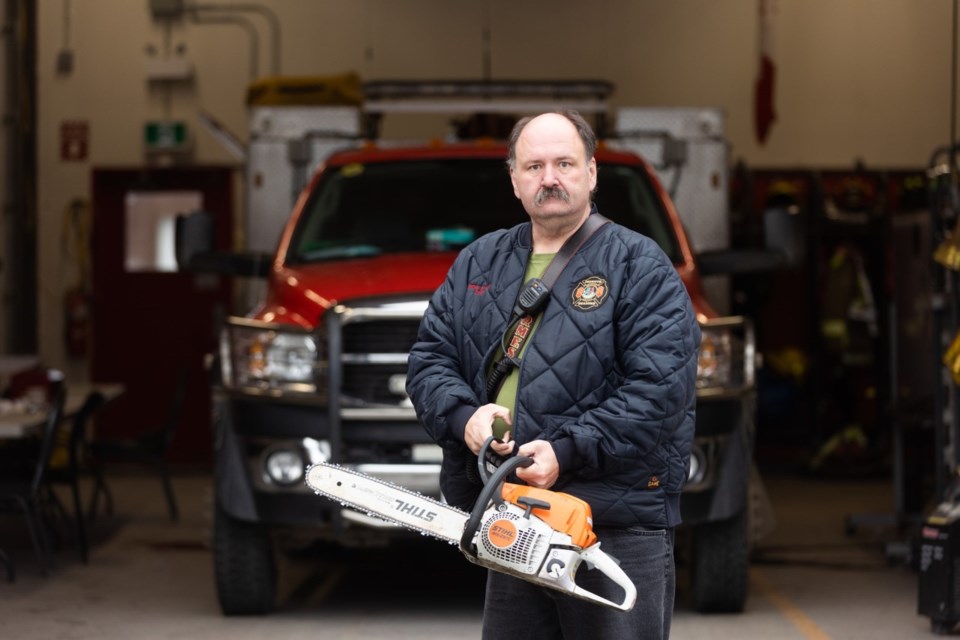 Downed trees
Evans said the heavily-forested communities of Bragg Creek and Redwood Meadows were witness to hundreds of fallen trees on Dec. 1, with some causing minor damage to property. Other downed trees, meanwhile, caused "a big mess," leading to a concerted effort from area residents to clear the debris.
Though most of the trees in Bragg Creek are pretty resilient, Evans noted that as they age, or become diseased or damaged, they are at risk of collapsing.
"The storm was certainly enough to bring those damaged and ill trees down," he said. "What's left is a good selection of healthy trees, but we ask people be really careful out there."
According to Evans, the community response to the wind storm was positive overall, as residents sought to support each other throughout the storm's fallout.
"I have witnessed [that] first-hand with that tragic accident we responded to," he said. "There are a lot of posts from people being there for their neighbours."
He added tree-clearing companies and arborists were working together to clear the mess as part of a "huge team effort."
"Some of the trees that haven't come all the way down, it's just too dangerous – they're too big for residents to handle themselves," he said. "They're beyond your 16-inch chainsaw. It takes real skill and knowledge to finish the job that nature started."
Power outage
With so many trees bringing down power lines, Bragg Creek, Redwood Meadows, Tsuu T'ina Nation, and other communities in the area were clouded in power outages that lasted upwards of 36 hours.
In the midst of the power outage, FortisAlberta and Telus representatives were busy repairing and replacing power lines. While power in some commercial areas was quickly restored on Dec. 1, other residential areas saw the power outages continue through to Dec. 2.
According to a statement issued by FortisAlberta, at the height of the wind storm, approximately 10,000 Albertans were without power.
"We continue to work to restore power and crews have been mobilized where it is safe to do," read an email statement from the electricity provider on Dec. 1. "During our triage, we have discovered several poles down in the larger affected areas."
Fortis representatives also stated several trees were discovered "on the line" in Bragg Creek, and 943 customers there were without power at the time of the statement, with an estimated time of restoration of 3:30 p.m. on Dec. 1.
"Our crews continue to work on restoration and we have mobilized crews from other areas of the province to assist," the statement continued. "We currently have a helicopter in the air to help with damage assessment."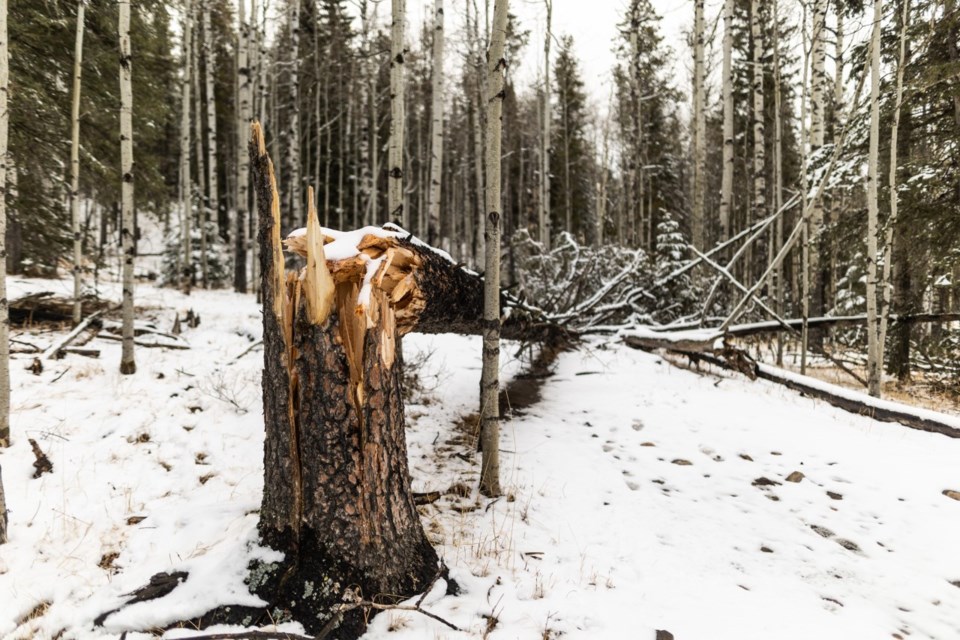 Community responds
In the midst of the power outage, Bragg creek residents provided help in various ways to those without power, whether it was offering showers or donating supplies and tree-clearing services.
Residents kept in contact with each other via a community Facebook page, providing updates and requesting support.
Kathleen Burk, a former president of the Bragg Creek Chamber of Commerce and a resident of the hamlet for 15 years, said she witnessed a sense of camaraderie and resiliency following the fallout of the wind storm.
"Everything you could imagine the community [needing], we'll offer to one another," she said.
However, Burk added a lot of residents remained frustrated with the long-standing power outages, and the damage caused by collapsed trees in the area.
"Fortis hasn't been able to restore power and we're going on 36 hours now," she said on Dec. 2.
Burk said even though her home was relatively spared by the wind storm, it was still unlike anything she had witnessed in her years as a Bragg Creek resident. She added it was likely the most significant weather-related incident in Bragg Creek since severe flooding devastated the hamlet in 2013.
"I've been here for 15 years and I've never really been afraid until that evening," she said. "It sounded like it was snowing with corn snow when it would tick against the window and siding, but what it was, was tree needles, pine cones, and debris that was blowing up against the glass and siding of the home.
"It's an ominous feeling as you're surveying the fallout, when the town is quiet, shut down, and people are trying to navigate their way through."
Evans added the situation shows how people should be ready for an emergency by equipping their cars and homes with 72-hour emergency kits for each person, in order to prepare for the potential of long-standing power outages.
"Make sure your generator is topped up and running properly, and it they are running, don't run them close to the house because then carbon monoxide becomes a problem," he said.
"This is a great example of why you have to be prepared."
–With files from Scott Strasser/Rocky View Weekly
Carmen Cundy, AirdrieToday.com
Follow me on Twitter
@carmenrcundy