Bicyclists put their rubber to the road this past weekend, cycling between Airdrie and Olds to raise money and awareness for Multiple Sclerosis (MS) research.
The 28th annual Airdrie to Olds MS Bike tour was held on June 25 and 26. As part of the ride, 37 teams and more than 226 participants cycled a total of 180 kilometres.
"[It's] a great cause and I like the safe ride. It's nice to ride on the highway in safety and with a bunch of like-minded people," said Mike Magnusson, a participant from Calgary, a few minutes before the ride got underway. "I've done this ride for well over 25 years."
Thanks to a long list of sponsors, Magnusson said he was pleased to be able to raise money for the cause.
Participants in this year's Airdrie to Olds tour raised $346,310 for the MS Society of Canada as of June 27, with an end goal of $530,000. The MS Society will continue to accept donations until Sept. 30 and the organization's staff are optimistic they will reach their goal.
Magnusson added he knows several people diagnosed with MS – a disease affecting an estimated 90,000 Canadians, according to the MS Society website.
Canada has one of the highest rates of MS in the world, the website states, with an average of 12 Canadians who are diagnosed with MS everyday.
The chronic autoimmune disease of the central nervous system can affect vision, memory, balance, mobility, and is considered an episodic disability.
Several participants of the bike tour are diagnosed with MS, said Laura Stone, the society's lead in community fundraising. Of those members, some wear a jersey during the ride that identifies them as someone with MS.
"I've heard [stories] from other cyclists that they're struggling to go up a hill and then somebody who's wearing the 'I have MS' jersey passes them and they're like, 'If that person can do it then I can do it,'" Stone said.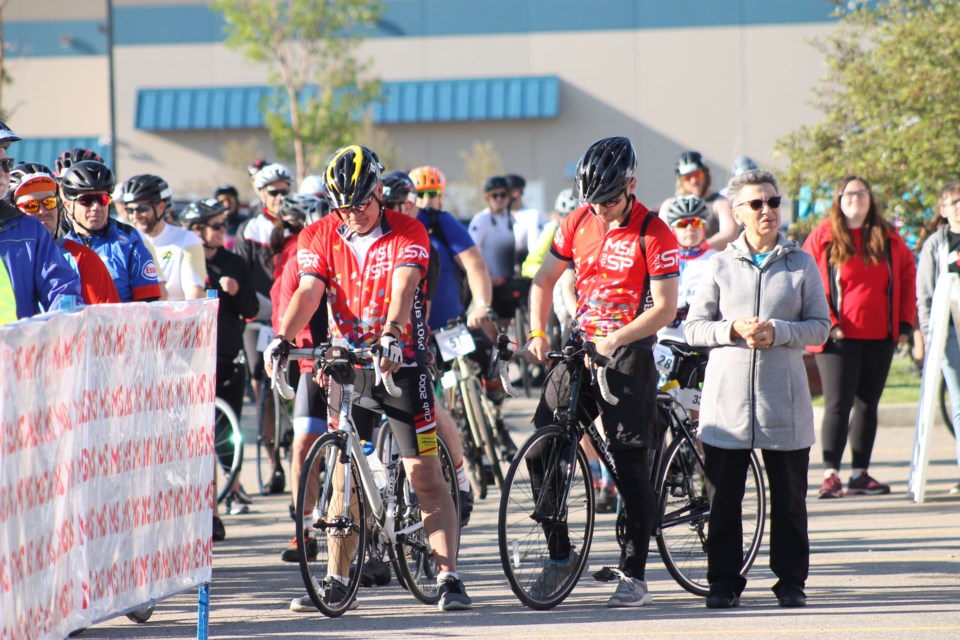 The event is a low-pressure bike tour, meant to help raise money and awareness for the MS community. Stone said there's no pressure for participants to finish the ride.
"If you want to hop on the bus at Carstairs, you're more than welcome to. We'll take you to Olds and you can join the finish line and cheer people on," Stone said.
The Airdrie to Olds bike event attracted more than 600 people in 2019, but this year's lower turnout was likely due to COVID-19, Stone said.
"It's the first year back [after three years] and we're so excited by the resiliency of the community coming back together and in person," said Stone. "It's a testament to how we've done over the pandemic as well."
Despite the lower turnout, Stone felt the event turned out great, with some of the best weather they have had for the tour in years.
The event began on Saturday morning with a breakfast at TransCanada Turbines in northeast Airdrie, after which riders hit four rest stops along the route to Olds College, where they could replenish from their ride with drinks and snacks.
Northstar Bicycle provided support for cyclists who experienced a flat tire or anyone that needed help fixing their bike along the way.
Once at Olds College, participants enjoyed a dinner, dance, beer gardens, and stayed the night at the Old College dorms.
The following day, the participants rode the 90 kilometres back to Airdrie via a slightly different route with four rest stops along the way. At the end of the second day, there was face painting and a barbecue lunch back in Airdrie.
"The cyclists are always well fed, they say we have some of the best food on the MS bike," Stone said.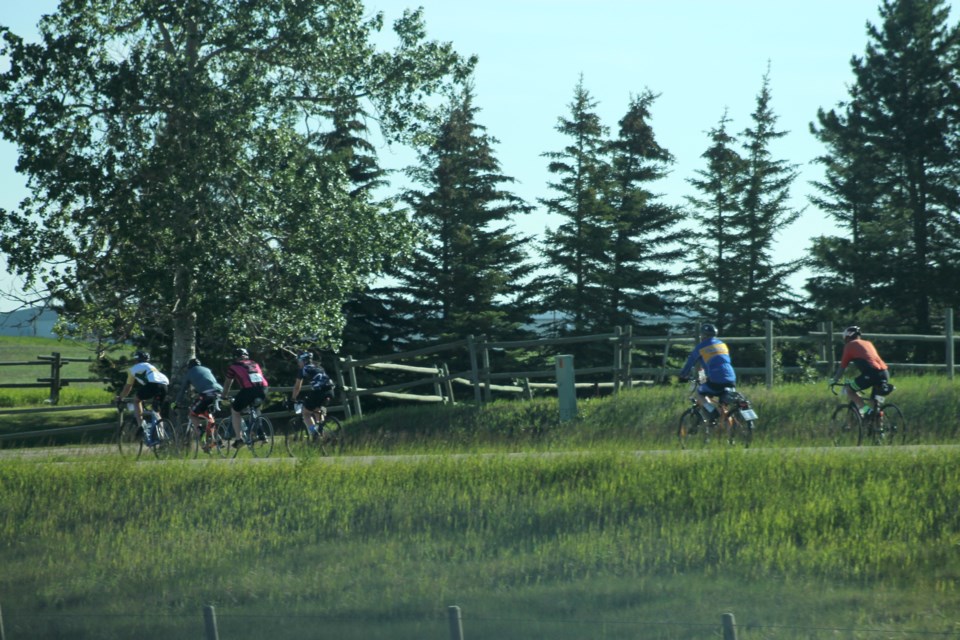 The society organizes three MS bike tours in Alberta every year, including the recent Airdrie to Olds tour, the Leduc to Camrose tour – which is one of the largest MS bike tours in Canada, and will take place on July 9 and 10 this summer – as well as a mountain bike tour in Hinton every September.
The funds raised go to critical MS research, serving the MS Society's mission of a world free of MS and improving the quality of life of those who are diagnosed.
"The money raised goes towards groundbreaking research in a variety of areas including advancing treatment, care, enhancing wellbeing, understanding and halting progression and preventing MS," Stone said.
On top of that, they provide services to support people affected by the disease in their own communities.
"What's really important with the MS bike [ride] is that it helps cyclists build awareness for the disease and it allows them to raise those funds that continue to support people affected by MS," Stone said.
For more information or to donate to the cause, go to https://bit.ly/3QRVDps.