More than a decade after first introducing the school-wide fundraiser, George McDougall High School students surpassed their $1 million goal in operating the Ride of the Mustang charity bike-a-thon this year.
George McDougall's 10th full-scale Ride of the Mustang charity bike-a-thon was held from April 12 to 14 in the school's gymnasium, raising approximately $47,000. That means the school has raised a combined total of $1,011,976 over the last 10 iterations of hosting the yearly event.
But even though their original goal has finally been reached, organizers stress there is more to be done.
"It means we set another goal and try to reach that goal," said Kelsey Ahluwalia, a teacher at George McDougall High School and the Ride of the Mustang organizer. "There's never an end – there's always a goal to keep going."
The school usually sets a goal every year based on how the school, community, and economy are doing.
In previous years, teams of eight to twelve students rode their stationary bikes in the George McDougall gym for 48 consecutive hours. But this year was a little bit different. With the looming uncertainty of the COVID-19 pandemic, organizers modified the bike-a-thon to start at 7 a.m. and end at 10 p.m. each evening, allowing students to go home at night.
"They had all kinds of games in the gym – we had dance, karaoke, it was awesome," Ahluwalia said. "I thought it would be worse not being overnight but I actually thought it was more fun."
For $500 a head, three teachers and several students also had their heads shaved on April 13.
"Four or five female students and myself all cut our hair to donate to ponytails for wigs," Ahluwalia added. "The girls were more brave than I am. They all shaved their heads, I didn't."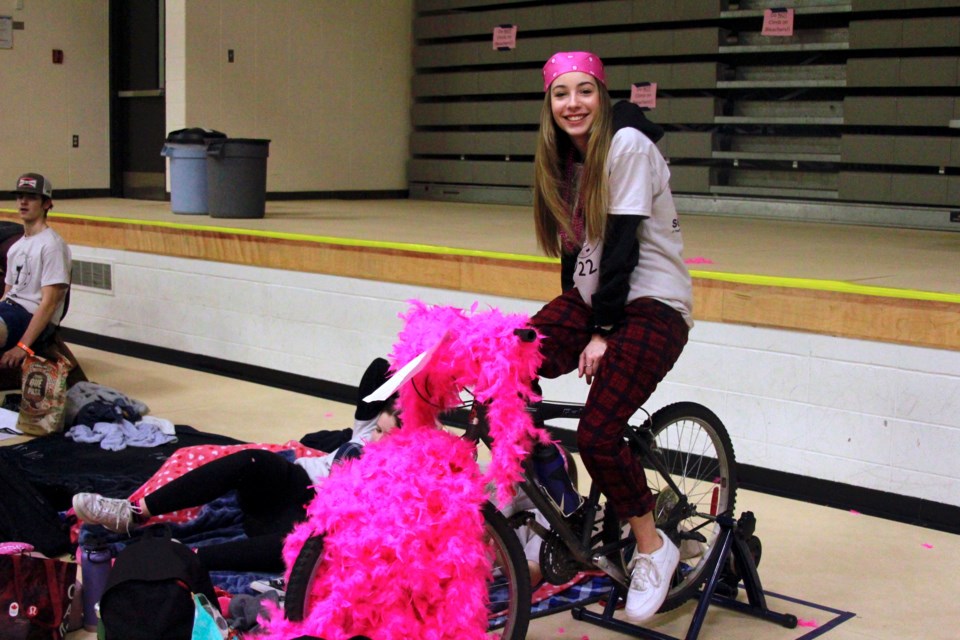 The bike-a-thon ended with a big closing ceremony on April 14, which was attended by the mayor, the City of Airdrie's CAO Paul Schulz, and representatives of the Alberta Children's Hospital. A big cheque was brought in and was presented to the hospital. A George McDougall student who is currently receiving chemotherapy treatments at the Alberta Children's Hospital had the honour of ripping off the banner to reveal the total amount raised for the hospital.
Following the cheque reveal, the hospital staff presented George McDougall High School with a plaque to thank them for donating over $1 million toward their organization.
Ahluwalia added that it's important and impactful for the students to be part of Ride of the Mustang, which has become a huge school tradition and an important community-wide fundraiser.
"It's one of those things where I can't help with the chemo and I can't help with the research because I don't understand all that stuff, but I can help raise the money to make that happen," she said. "I think it just helps the [students] to realize that the world doesn't revolve around them. There's more to life and we can help other people."
She added the students love participating in the yearly event and have nothing but good things to say about it. Ahluwalia even heard some students say it was their favourite part of high school so far, while others told her it was the best day they have ever had.
"One girl mentioned to a teacher that, 'I really should have transferred here sooner because my other school did nothing like this,'" she said. "There were a lot of really good positive things about it."
The first Ride of the Mustang bike-a-thon was held in 2011 in support of a George McDougall student who had recently been diagnosed with cancer.
Since then, the event has grown and expanded from focusing strictly on oncology to funding the Kids Helping Kids program at the Alberta Children's Hospital for research and equipment.
There are currently multiple George McDougall students at the school who are patients at the Alberta Children's Hospital and the bike-a-thon is a way for their school community to support those students, Ahluwalia explained before this year's event.
The fundraiser is also sponsored by several local businesses and students do a lot of their own fundraising leading up to the event.
For more information on the annual fundraiser, go to mcdougall.rockyview.ab.ca/mustangs