Winter is the cutest season, and we won't hear any different. It's cozy, adorable, and filled with holiday cheer. The only downside? The cold. Things require a little more planning in the colder months, and we want to help you out. We've rounded up a list of ideas if you're looking for a romantic date idea for you and your special someone. You can use these ideas or use this list for inspiration!
Jasper Planetarium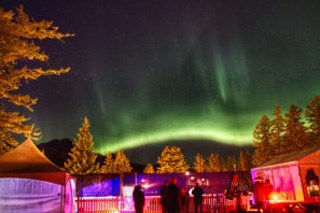 The Jasper Planetarium is located within the world's largest dark sky preserve. There are many different things to do, including the planetarium experience, looking through the largest, most powerful telescope in the Rockies, or a combo between the two experiences. You will learn a ton, see some enchanting views of the sky and stars up close, and spend some fantastic quality time with your date.
Nikka Yuko Japanese Garden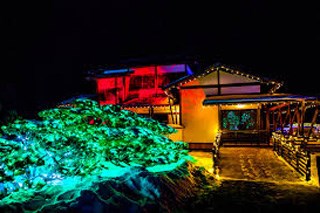 This enchanting hotspot is a 3.75-acre garden in Lethbridge. The Winter Light Festival is magical, and we couldn't picture a better date idea. The massive light display is a sight to behold, and there are also ice sculptures, a dome experience, and other surprises throughout the garden. You can stroll through the garden and add a food and drink package if you're in the mood to splurge.
Lake Louise Ice Skating
There's nothing cuter than an ice skating date. Lake Louise is positively stunning in the winter, and the cleared ice skating area is the perfect place to take in 360 views of the mountains, the lake, and the iconic Chateau Lake Louise. You can get a warm beverage in the hotel before or after your skate and get some adorable photos of you and your boo.
High Tea
Going for a fancy tea date is unique, memorable, and fun. Many places offer high tea experiences, so just do a quick search to see what's in your area. If you need to take a little drive, that could just add to the fun! If you're not much of a tea person, any hot beverage will do! Consider going on a hot chocolate tour or a holiday-themed drink-tasting afternoon.
Frozen Waterfall Hike
This province is filled with beautiful waterfalls to discover. We don't want you to think that waterfall viewing is out of the question in the winter. The opposite is the case! You can do a little hike to view a beautiful, frozen waterfall. It's a natural ice sculpture you need to see with your own eyes—a great date to enjoy the outdoors and get an amazing view.
Britanny Burr is a freelance writer and a contributor to Great West Media. This story was written for the 2022/23 Cool Winter Guide advertising feature. It is not written by and does not necessarily reflect the views of the editorial staff.