A Crossfield resident and his buds recently took part in a huge joint effort to roll the world's biggest cannabis blunt.
Taking place to mark 4/20 on April 20 – a date commonly recognized to celebrate cannabis culture – Dano Willox and a group of approximately 30 people converged in Vancouver's Thornton Park to roll and then light a 29-foot joint loaded with over 60 pounds of cannabis.
Willox, who has lived in Crossfield for the last 10 years and called Madden home before that, said the chronic undertaking was first discussed by several friends and cannabis enthusiasts last November.
"One guy, a buddy of mine out of Calgary named Dale [Rook], came up with an idea last year," Willox said. "A lot of people laughed at it, but I kind of said let's go for it, you only live once. The idea was to roll the world's biggest joint.
"We're not talking something that you're going to slap on the table in your house. This was a big one – he wanted to do a 40-foot joint."
The group eventually included more than two-dozen cannabis enthusiasts and social media influencers who came to Vancouver from Ontario, Alberta, and the United States to participate in and document the attempt. Willox said one of the participants was a social media influencer who goes by the Spliff Master, whose cannabis-influenced art has been featured in High Times magazine and other pot-focused publications.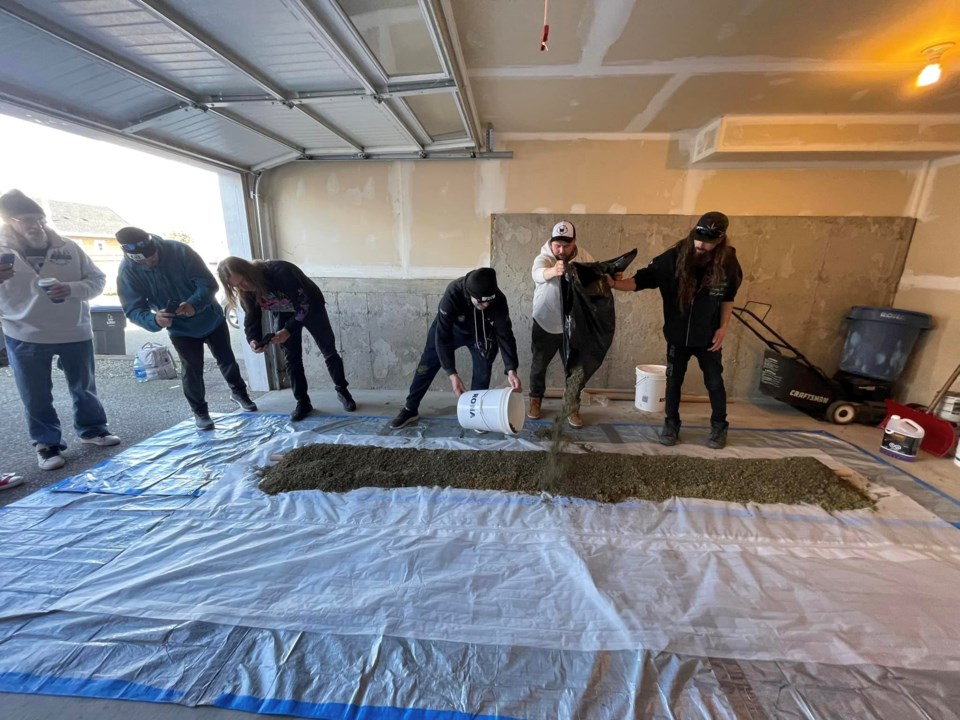 "Another guy who came up from the States was Johnny De," he said. "He's another social media influencer guy, and then we had Mr. and Mrs. Greens from Ontario, a bunch of other people from Ontario, and then there was a dozen of us from Alberta. We all got together as a group and started planning this thing for 4/20 in Vancouver."
Once they were all in Vancouver, Willox said the group gathered at a house in Surrey, where they started to piece together the record-attempting joint in three 13-foot sections. Empire Rolling Papers sponsored the initiative by providing 300 feet of a specially fabricated rolling paper they developed, according to Willox.
"We went with that and built it in sections – 13 feet long and then we took two-feet-wide sections and glued them together with a six-inch overlap," Willox explained. "So we had a five-and-a-half foot span of blanket if you want to call it that, or paper. That's what we used. Once we had the papers made, that's when we decided to put the weed into it and roll it up."
After piecing together two sections to form a 26-foot joint with a three-foot roach end, Willox said the group realized that without a huge semi-trailer at their disposal, there were going to be some logistical issues in transporting a 40-foot joint to Thornton Park. Thus, they decided to limit the giant spliff to 29 feet instead, which would still mark an unofficial world record.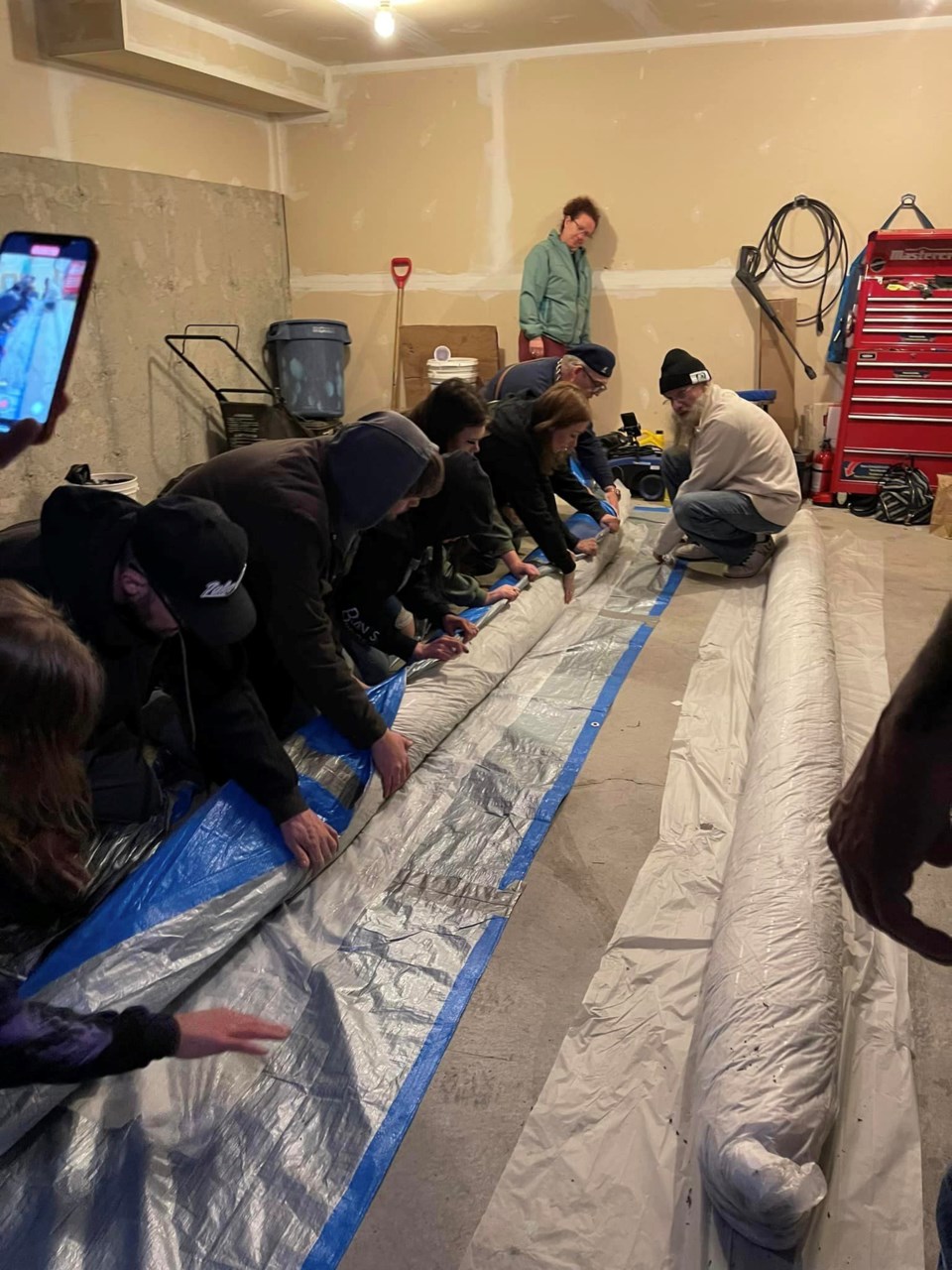 Once the joint was transported via a pick-up truck to Thornton Park (they had to use tarps as a gurney to keep it all together), Willox said they got to work rolling the giant blunt.
Almost complicating matters, he noted, was steady rain that fell pretty much throughout the whole ordeal.
Despite that adversity, Willox said the group managed to keep the joint dry until the rain subsided and they were able to light it as the clock approached 4:20 p.m.
He noted that in order to light and then pass the smoke through the entire 29-foot blunt, they had to be creative, using a torch and blower system.
"You're obviously not going to be able to suck smoke through a [30]-foot joint with one person, so we used an air blower to draw the smoke from one end of the joint to the other," he said. "Shortly after 4:20, the joint started being blown into the crowd, and people started lining up with their phones to do their social media thing and be one of the first 100 people in line for the smoking of the world's largest joint."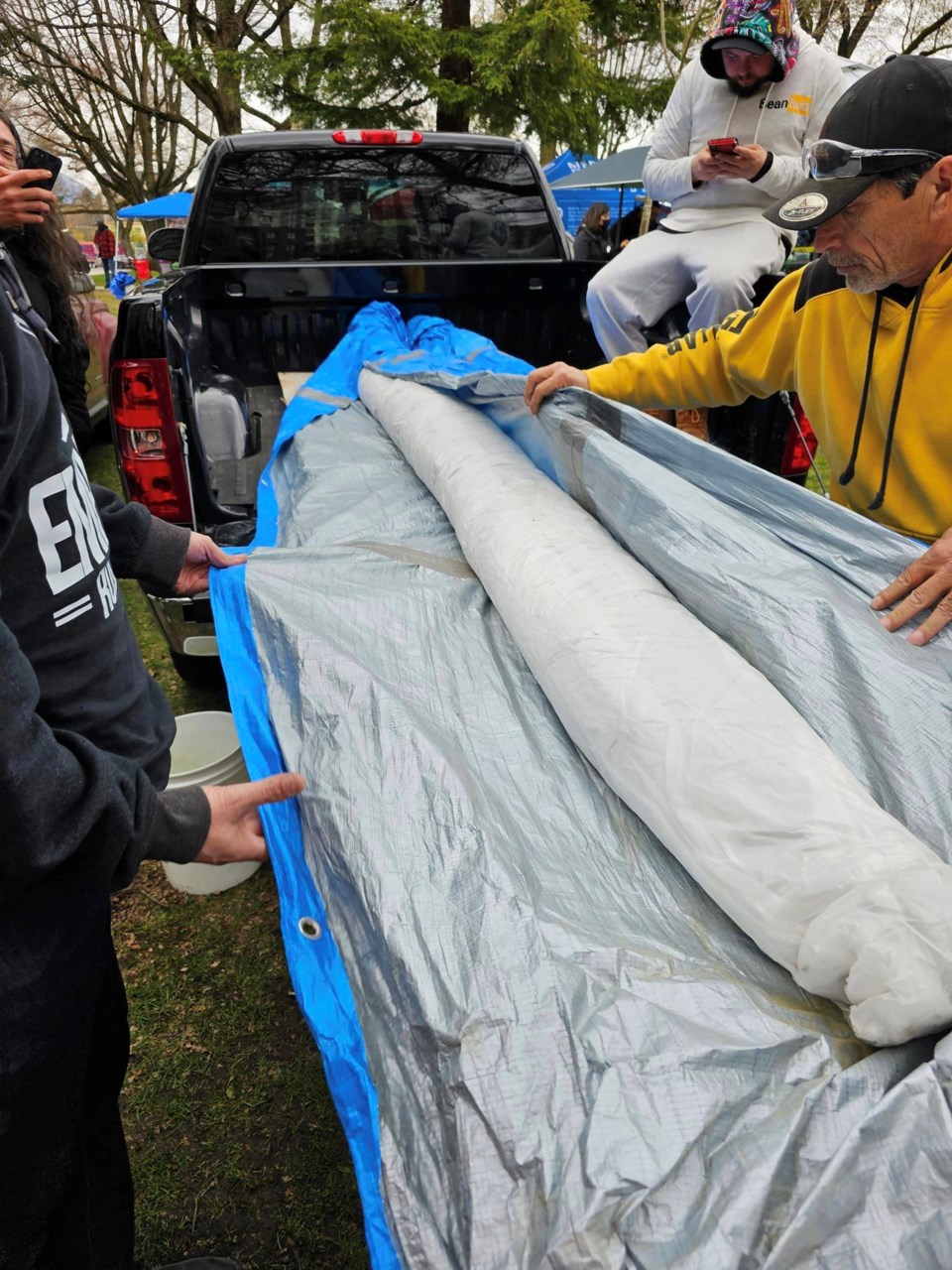 Willox said Vancouver has always been the centre piece of Canada's 4/20 celebrations, dating back to pre-legalization, which made it the optimal location to roll the world's biggest joint.
While the record hasn't been officially verified as of writing, he said a notary from World Records was on site to take measurements, and the group hopes to receive official certification in the coming weeks.
Regardless of whether or not their attempt will be officially added to the world record books one day, Willox said it was an enjoyable experience and one he was honoured to take part in.
"Did the whole joint smoke? No," he said. "But did it light? Yes. Did it stay dry? Yes. Did people enjoy the experience and have a talking piece for the next couple of weeks? Yes."
As is often the case with world records, official or otherwise, Willox said word quickly got out about the stunt and there are already conversations among others to try and break the record once again.
"Will someone try to break it? Well, there's already something in motion trying to coordinate something so they can attempt to break our record," he said. "I think that will spawn off into different things."
For videos, photos, and more info on the world record attempt, visit empirerolling.com or search 'Worlds Biggest Joint' on Facebook.