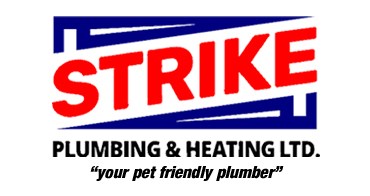 Strike Plumbing and Heating Ltd - Servicing, residential and light commercial plumbing, and heating needs.
Offering 24/7 service.
Our services include but aren't limited to:
Faucet and Toilet repair, Hot Water Tanks, Drain Cleaning, Water Softener, Gas Fitting, Furnace & Boiler repair, Fireplace Service, Garage Heaters, BBQ Gas Lines, Air Conditioning.
Strike Plumbing & Heating are committed to offering expert plumbing & heating services of the highest quality. The team of professionals are always up to date with new innovations as they come out. They have built and continue to build their business on reputation. Professional workmanship with reasonable pricing.
Strike Plumbing and Heating are Locally Owned & Operated, Dedicated to Client Satisfaction, and take pride in Prompt Project Completion.
Whether you are planning a renovation, or simply need routine affordable maintenance on your home or business plumbing and heating systems, this professional Airdrie Plumbing team can do it all.
Strike Plumbing and Heating Ltd
Airdrie, AB
Phone /Text: James 403 966 6764 John 403 606 2321
Email: [email protected]