Warmer weather is here! Its time go shake off those winter blues and head outside. We've got a wealth of wonderful things to do, see, and experience across the province that will get you moving, exploring, learning, and relaxing.
Avens Art Gallery, Canmore
Located on Main Street in downtown Canmore is a gallery unlike any other. Using a variety of mediums the artists showcased here interpret Alberta's beautiful landscapes, animals, and industry through sculptures, paintings, and carvings. Artists include Dana Irving, Tom Hjorleifson, Teri Paul, and many more. COVID protocols are in place to ensure your safe experience on site, including distancing, enhanced surface cleaning, and sanitizer for use upon arrival. Enjoy with up to six at a time in the gallery or book a private appointment to enjoy the gallery to yourself or with your small group. FaceTime and Zoom tours can also be arranged. Learn more at the Avens Art Gallery website.
Chickakoo Lake Recreation Area, Rural Onoway
It's worth the drive! Plan a day trip or schedule it as a stop on your cross-province road trip because Chickakoo Lake Recreation Area is a beautiful spot to spend the day. Here, 480 acres of woodlands hosts 14 kilometres of winding trails that attract hikers, cyclists, and even horseback riders. In the winter locals know this is the place to be for cross country skiing; so, even if we get one of those late spring snow showers, you can still enjoy being active at Chickakoo. Find it on 1128 Township Rd 534, Onoway, Alberta; that's southeast of Onoway via Hwy 43 and Township Rd 540.
Last Chance Saloon, Wayne
Those in the know about this gem in Central Alberta may have been surprised to hear that the Last Chance Saloon has recently been listed for sale. However, the current owners want you to know between now and then, it's business as usual, so come on down and step back in time! The Last Chance Saloon is a five minute drive on Hwy 10 east of Drumheller. On site you'll find a vintage hotel and a campground. During the restrictions the famous Saloon is serving takeaway so you'll still get to enjoy those sought-after burgers and tasty delights. The building, and the location, are steeped in history and the beauty of the Badlands can't be beat. So, say "howdy partner" when you visit Last Chance Saloon this summer.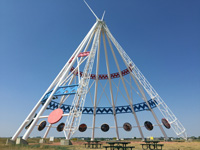 Heart River Golf Course and Campground, Peace River
Heart River Golf Course and Campground features Stay & Play packages which give you access to one night of camping, 9 holes of golf for two people, and a power cart for one low price. Rates vary based on the size of campground needed. A popular package goes for $75, but motorhomes and larger units can be accommodated in larger sites for $90, and smaller sites are as low as $50. Outside of stay and play, rates in the campground start at $25/day. Whether you are there to camp, golf, or both you'll love how the site is nestled into the trees, how the course winds around the river, and the ability to pause and enjoy relaxing moments in nature. Campground reservations are not required, but you can call ahead to check availability. Visit their website for full details.
Nerissa McNaughton is a freelance writer and a contributor to Great West Media. This story was written for the Hot Summer Guide advertising feature. It is not written by and does not necessarily reflect the views of the editorial staff.