The KeepAlbertaRCMP Community Engagement Tour made a stop at the Airdrie Legion on Feb. 3, where representatives of the National Police Federation (NPF) spoke to a packed room of attendees.
Last fall, Minister of Justice and Solicitor General, Kaycee Madu, proposed the creation of Alberta's own provincially led and funded policing force to replace the current RCMP service. A decision on this proposal is expected later this spring, following a series of information events led by Madu.
The top two issues with this proposal, according to the NPF as discussed during their KeepAlbertaRCMP session in Airdrie, is that it will have a detrimental effect on public safety and come at a much higher cost than what Albertans are currently paying for RCMP services.
An independent report by PriceWaterhouseCoopers (PwC) LLP found the new policing model proposed new approaches to service delivery and governance that could better address root causes of crime, increase accountability, and put more frontline personnel in communities across Alberta at an equal or lower cost.
But the NPF believes the new model would do the opposite.
Kevin Halwa, NPF regional director for Alberta, claimed during the Feb. 3 meeting that the proposed model replicates the existing services of the RCMP at a higher cost and with fewer officers.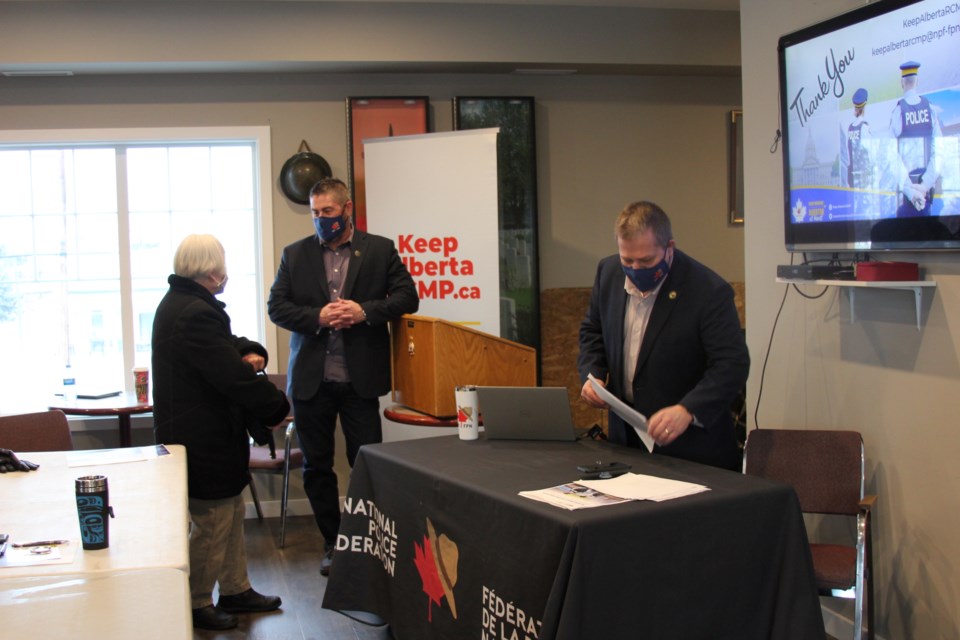 Currently, the federal government pays 30 per cent of Alberta's RCMP bill, which was a total of $185 million in 2021.
"If we move away from RCMP into a provincial police service, that 30 per cent will be borne by the taxpayers of Alberta. That is a lot of money that could be spent somewhere else," Halwa told the crowd.
The province proposed two policing models – and by NPF's calculations, Halwa said the first model calls for half of the current 3,100 fully trained police officers at $139 million more than the current cost, while the second model calls for just 56 more officers at a cost of $164 million more than the current bill to the province.
The Justice minister could recruit those officers under the current RCMP model and still benefit from federal funding, Halwa claimed, adding if Alberta ultimately adopts a provincial police force, the province would also be on the hook for training and recruiting new officers.
According to the PriceWaterhouseCoopers study, about 15 per cent of the current RCMP officers serving Alberta would switch to the provincial service, which Halwa thinks is a liberal estimate.
"Even if 15 per cent of the current members switched over, that's only 464 officers. That leaves us short of 2,500 officers. Recruiting for officers anywhere in North America right now is very difficult," he said.
Halwa pointed out that losing 85 per cent of the RCMP's officers would put a strain on public safety.
On top of the additional annual costs, there's the one-time transition cost that includes purchasing everything from infrastructure to equipment.
The one-time cost for the first moedel is $366 million, while the second model would cost the province $371 million.
Noting examples of transition costs ballooning in Canadian cities that switched away from the RCMP, Halwa said the reality of the transition cost is likely much higher.
'Policing doesn't exist in a silo'
Jeff McGowan, director of NPF's Prairie/North region, added that switching services will likely not have a great impact on the issues facing Alberta's justice system.
"When dealing with rural response times, drug issues, and resourcing, we have to recognize and realize that policing doesn't exist in a silo," McGowan said, adding that even by placing 100,000 police officers in an area, it won't be as impactful as having the corresponding services like crown prosecutors, judges, social services, mental health, addictions counselling, and homelessness support.
The current underfunding and understaffing of crown prosecutor offices has led to roughly 1,200 serious and violent crime cases at risk of being stayed, he noted, which means there are even more lower-precedent cases at risk of being stayed.
McGowan said these are areas that need to be addressed in order to reduce crime, not just policing.
"We need more prosecutors, judges, court time, court offices, potentially jails, and more effective means to deal with homelessness, mental health, addictions – all those things that keep people in criminal activity," McGowan said.
Alberta RCMP provides additional support services that are roughly 74 per cent funded by the federal government, according to McGowan.
The Alberta RCMP and federal agencies collaborate and offer critical covert, specialized, and intelligence functions, such as special investigations, undercover operations, technological crimes, air services, witness protection, division criminal analysis. If the province plans to continue offering these and other services, the full cost would come from the provincial budget and be covered by Albertans, McGowan explained.
Claims and settlements against the police are also covered by the federal government, and McGowan said the police get sued quite often.
"Currently, none of those costs are borne by the province with respect to a settlement. That is something covered by the federal government and the federal government deals with those issues," he said.
The NPF criticized the lack of public engagement within the government's public engagement sessions, saying only provincially and municipally elected officials are able to attend the sessions. This means key information – like where the funding is coming from – has not been publicly revealed, the NPF claimed.
When the Fair Deal Panel recommended the Government of Alberta consider transitioning away from the RCMP to an Alberta provincial police service in 2020, a survey showed that only 35 per cent of Albertans supported the idea, McGowan pointed out.
The province hired PriceWaterhouseCoopers LLP to conduct a study in 2020, which was released in the fall of 2021.
Polls conducted by the NPF showed that less than nine per cent of Albertans support the transition, while 84 per cent do not want to pay for increased costs and instead want additional resources to be invested in the Alberta RCMP to continue to reduce and mitigate rural crime and the Alberta justice system to tackle the issue of repeat offenders.
McGowan added that 90 per cent of Albertans wanted more details to the cost associated with the transition.
According to the current policing agreement, Alberta's Justice minister sets the priorities, goals and strategies for the provincial police service. One of those strategies, McGowan pointed out, is the Rural Crime Reduction Strategy, which led to successfully decreasing crime rates for rural detachments by 10 per cent and six per cent for municipal detachments between 2017 and 2020. That includes a 17 per cent decrease in break-and-enters, a 22 per cent drop in thefts under $5,000, and 21,285 fewer total offences, he said.
"If [the new model] impacts and improves public safety, obviously we would be having a very different discussion," McGowan said.