A twelfth HJHL championship has the Bisons on cloud nine.
On the strength of a three-goal third period, the Okotoks Bisons dispatched the Cochrane Generals 5-3 in Game 3 Thursday night on the road to complete the three-game sweep of the championship series and capture the team's first Heritage Junior Hockey League title in eight seasons.
"I've been here for so long and this is what I've tried to get done for over four seasons, this was the goal and we were able to achieve it," said Bisons captain Evan Woods, following the final. "I can't even put it into words right now, it doesn't really feel real.
"But I'm so excited and so proud of everyone on the team."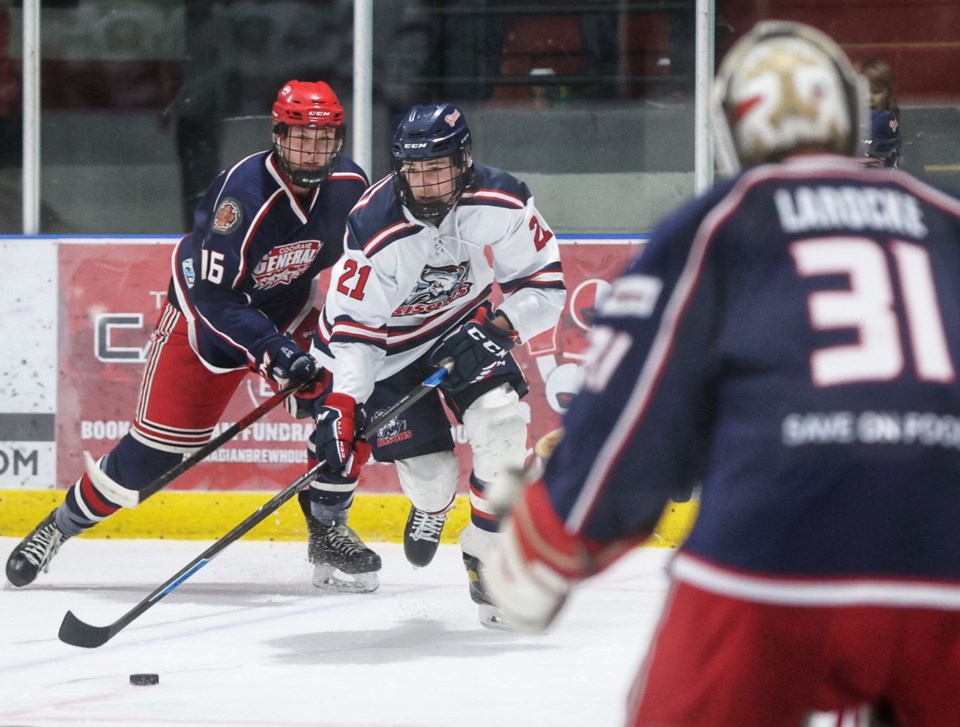 With the team's knotted at 2-2 after 40 minutes at the Cochrane Arena, Okotoks broke the deadlock with three straight tallies in a 3:48 second span to take over the clinching game.
Brayden Kapty scored on a seeing eye point shot, Austin O'Bray notched his team leading 12th playoff goal on the rush and Adam Kirkpatrick lit the lamp 53 seconds later.
Generals defenceman Jordan Marks scored shorthanded to cut the deficit in the late stages for the blueliner's second goal of the game. Diago Coelho had the other Cochrane tally.
"The pressure was all on them, we were up 2-0 in the series in the third period in a tie game," Woods added. "We kept the boys pretty calm in the dressing room and just went into that period knowing we were the better team.
"That was kind of a full-circle moment for the boys, that whole third period we dominated them and did what we could and the result is a big win."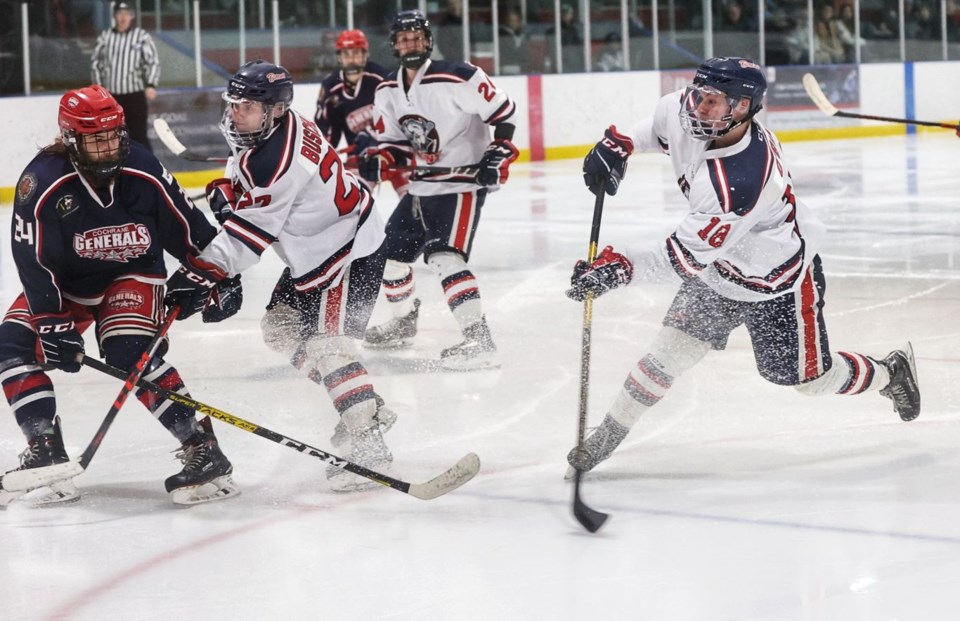 Okotoks opened the scoring with overager Dylan Wenzel notching his sixth of the postseason with defenceman Lucas Watkins finding the back of the net on the powerplay in the middle stanza.
Dylan Fries made 25 saves for the rookie goaltender's ninth victory of the playoffs.
"It's a great feeling, but it's easy when the boys are playing that good in front of me," Fries said. "I think I played solid, there was a few times where I lost the puck, but overall it was decent.
"I try to forget each goal after it happens, that's my only goal, take it one step at a time and you'll be good."
Okotoks won the first two games of the series on home ice by 5-2 and 3-2 scores.
The Bisons managed to keep HJHL top scorer Patrick Forde in check in the series, holding the Generals captain to one assist in three games.
"It feels great and I love the team I did it with too," Fries said. "We walked in day one and we were a family and I've never had that with a team, it's crazy. We had great leadership with Woodsy and (Andrew) Bonham and we just meshed really well together."
The victory at the Cochrane Arena is a poetic finish for the Bisons longest standing players.
The barn was the venue of Okotoks' last playoff game during their 2020 playoff run in mid-March with the COVID-19 pandemic putting a halt to a promising title run for the heavily favoured Bisons.
"It's a great feeling and I do feel bad for those boys who played two years ago and weren't able to finish their season, but this feels really good," said Bisons general manager Ryan Rarick. "That was a pretty sad moment heading to that game in (2020) because we all knew it was going to be the last game.
"We have bad memories in this building so it's nice to now have a good memory in it."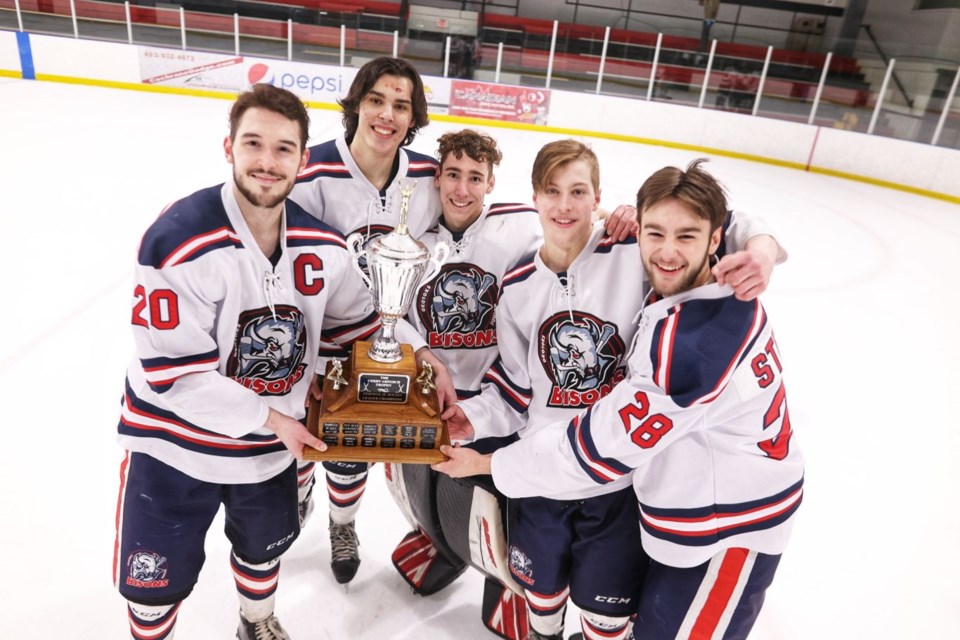 Woods, one of four holdovers from 2020 along with O'Bray, Wenzel and AJ Belanger, was well aware of the significance of his surroundings.
"I knew that was the case and didn't try to think about it very much," he said. "Coming into this rink is also where we started this season in exhibition and we knew that last time we were here in the playoffs our season got shut.
"As much as we would want to win at home in front of the home crowd, it feels really good to win here and we had such an amazing crowd come out to support us here."
Rarick attributed the team's terrific campaign to a combination of locker-room chemistry and excellence from the coaching staff led by bench boss Brad Cobb.
"It's not always about the talent you have on the team, it's the whole package, these guys are leaders and it just all worked out this year," Rarick said.
"And Brad did a really good job, it's not easy coaching Jr. B hockey, it's not about the X's-and-O's anymore, the majority of our players are either full-time students or work full-time and it takes a special coach to realize these kids are in that stage of their life and hockey isn't number-one anymore.
"Brad and his staff did a really good job and it all just came together and I'm really thankful and grateful to be a part of it."
Both teams are through to the Hockey Alberta Jr. B Provincials, held March 31 to April 3 in Wainwright, the site of Okotoks' first and only provincial title dating back to 2013.
For more information on the Jr. B provincial tournament go to juniorb.haprovincials.ca.