It continues to be an Xtreme-ly good season for Airdrie's U15 AAA boys' hockey team.
Entering a new year and the homestretch of the 2021-22 Alberta Elite Hockey League (AEHL) season, the Airdrie Xtreme are currently in first place of the AEHL South Division with a 19-2-0 record. The AAA team has a four-point cushion over the second-place Red Deer Rebels and are in the midst of an eight-game unbeaten run that dates back to Nov. 27, 2021, when they lost 2-1 to the Calgary Bisons.
"We're playing really well," said Xtreme head coach Tyson Soloski. "We have a really good team and a lot of depth. Everyone on our team contributes, and it's really fun to watch. But we come to work every day in practice and in games, and that's why we're winning right now."
The Xtreme's last fixture was a 4-1 win over the Okotoks Oilers on Jan. 9. Airdrie's goals came from Isaac Davies, John Hadden, Aaron Sawatzky, and Finn Bagley.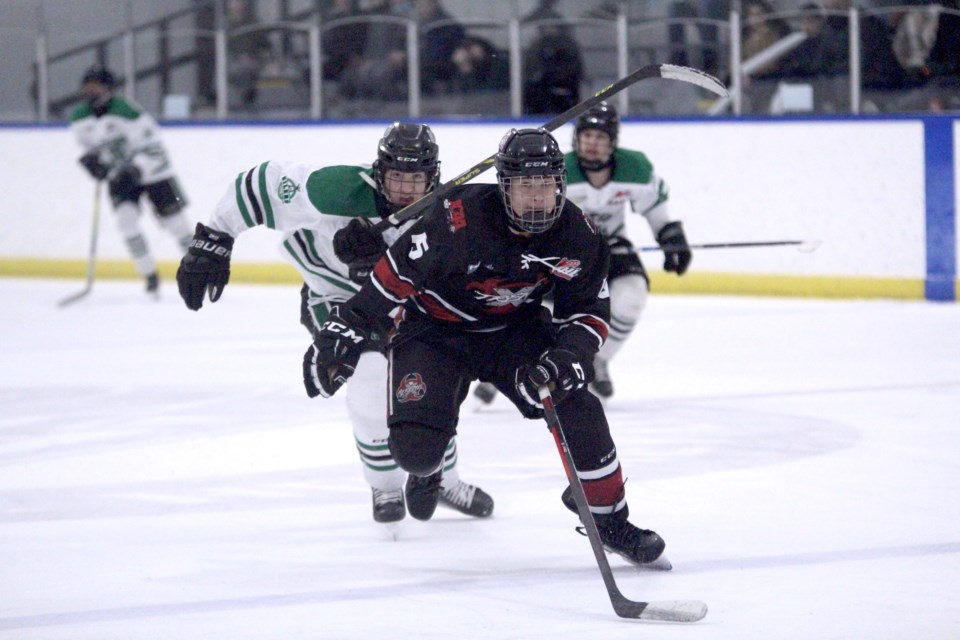 The day before, Airdrie beat the Southeast Athletic Club Tigers, of Medicine Hat, 9-5.
"It's good to be on a winning streak," said Sawatzky after the game against Okotoks. "In practices we've been working really hard to improve every time we step on the ice."
That mindset has clearly paid off – in 21 games in the AEHL this season, the Xtreme have hit the net 114 times – an average of more than five goals per game – while conceding 45 goals.
The Jan. 9 game at the Ron Ebbesen Arena marked Airdrie's third win against Okotoks this season. While the Xtreme appear to have the Oilers' number, Soloski acknowledged every match-up with them has been tight.
"It's been a good rivalry all year," he said. "They've probably played us the toughest out of anyone. We've gone to overtime against them a couple of times and they've all been really good games. It's fun to play good teams that challenge us and today was a complete effort, which was nice to see."
It hasn't just been in their regular season the Xtreme have found success; Airdrie also won gold at the Okanagan Classic U15 AAA tournament in November 2021. According to Soloski, the highlight of that tournament was beating the Kelowna-based RINK Hockey Academy – who are coached by NHL hall-of-famer Jarome Iginla – in the gold-medal game.
Next up for the Xtreme will be another tournament, as the team prepares to head to Edmonton for the John Reid Memorial Hockey Tournament this weekend. According to Soloski, the John Reid is one of the premier U15 AAA hockey tournaments in western Canada.
While there is still plenty of hockey to be played, Soloski attributed a strong team culture to the Xtreme's success this season.
"Everyone gets along and hangs out together," he said. There are no cliques. They love being at the rink and hanging out, which is awesome. They support each other, which is great."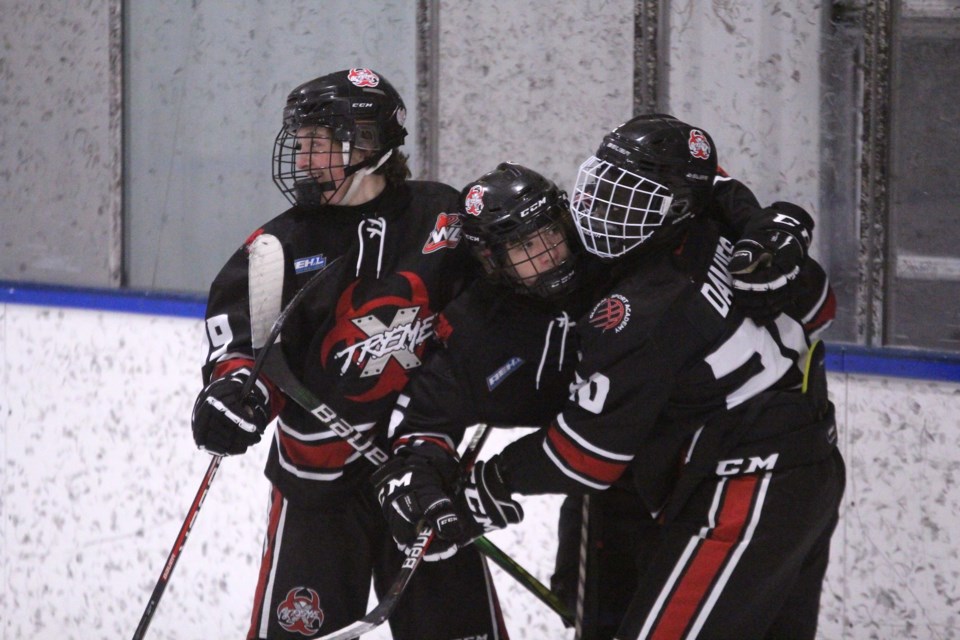 Airdrie hockey fans have plenty of opportunities to check out the high-flying Xtreme this month, as all but one of the team's league fixtures are taking place at the Ron Ebbesen Arena. Following the John Reid tournament, the Xtreme's next AEHL outings will be on Jan. 22 and 23, against the Calgary Northstars and the second-place Red Deer Rebels, respectively.
The team will round out the month with another home game against the Knights of Columbus Squires on Jan. 29 before a short jaunt south for another battle against the Oilers on Jan. 30 in Okotoks. For game times, visit u15aaa.ca
Soloski said a slate of home games bodes well for the Xtreme as the team prepares mentally for the AEHL playoffs, which begin at the end of February. He added he hopes plenty of fans come check out Airdrie's U15 AAA team.
"I think down the stretch, it would be awesome to get the community behind us, because we are playing so [well]," the head coach said. "It would be fun to get lots of people out in the stands to see us."