In a quest to find athletic clothing and gear that fit her young son, Langdon entrepreneur Launa Austin created an athletic brand for kids with bigger sizes, called Husky Jocks.
This April, Austin won $15,000 through the 2022 JMH LaunchPad Pitch Competition at Mount Royal University (MRU) and has cracked the top 100 in Canada for the Total Mom Pitch. The winner of the Total Mom Pitch is set to win $30,000 toward the development of their business.
Since her son was five years old, Austin had trouble finding clothes that fit him properly. As her son got older, she found the issue persisted across all sports.
"I realized that this is an ongoing issue, it wasn't just baseball," she said. "It happened when he wanted to play rugby and when he wanted to swim and all these things."
She met other parents who had dealt with the same issues and they all shared tips on how to adjust adult-sized clothing so their kids could play and feel included.
"I started doing some research and realized it was not a niche market," she said. "I found in my research that there are over 18 million kids in North America who are considered husky."
According to her research, one in five youths in North America, ages five to 19 are considered husky. In order to properly fit larger areas of their bodies, many kids wear adult sizes, compromising safety features and comfort, and ending up with clothes that are too big.
Since introducing her first two products – baseball pants and jocks – Austin said parents have made requests for a variety of athletic gear.
Austin is confident she has created a brand with a lot of potential and just needs to keep up with funding the research and development.
While the baseball pants are unisex, the jocks are currently only for boys. Jills for girls are still in progress due to their embedded protection that have to meet safety standards. Austin said there are many young girls who deal with the same sizing issues in minor sports, and she wants all kids to feel confident and included.
Her current products have a variety of adjustable options to increase comfort and safety, and are designed in a way to accommodate commonly thicker areas of the body.
In speaking with adults who dealt with huskiness as kids, Austin said she learned many of them quit playing sports because they didn't fit the uniforms.
While attending MRU, Austin was able to work on her business idea with the help of fellow students and her professors. With a focus on her first two products, she participated in LaunchPad Lab at MRU, an eight-week entrepreneurial workshop that helped develop her business idea.
"You really go through the ringer. They have coaches there to help you, looking at if this is a viable product, who your target audience is, and all those questions," Austin said. She noted she couldn't speak more highly of the support they provided.
After those eight weeks, she applied for LaunchPad Pitch – a Dragon's Den-style contest where MRU students and alumni have five minutes to pitch their venture to a panel of judges and audience. Due to what Austin said was a lack of research she had completed last year, she didn't make it into the competition on her first try.
But after a lot of coaching and product development, she won $15,000 from her pitch this year.
"I was so proud to win," she said. "It made me feel that the coaches really believed in what I had."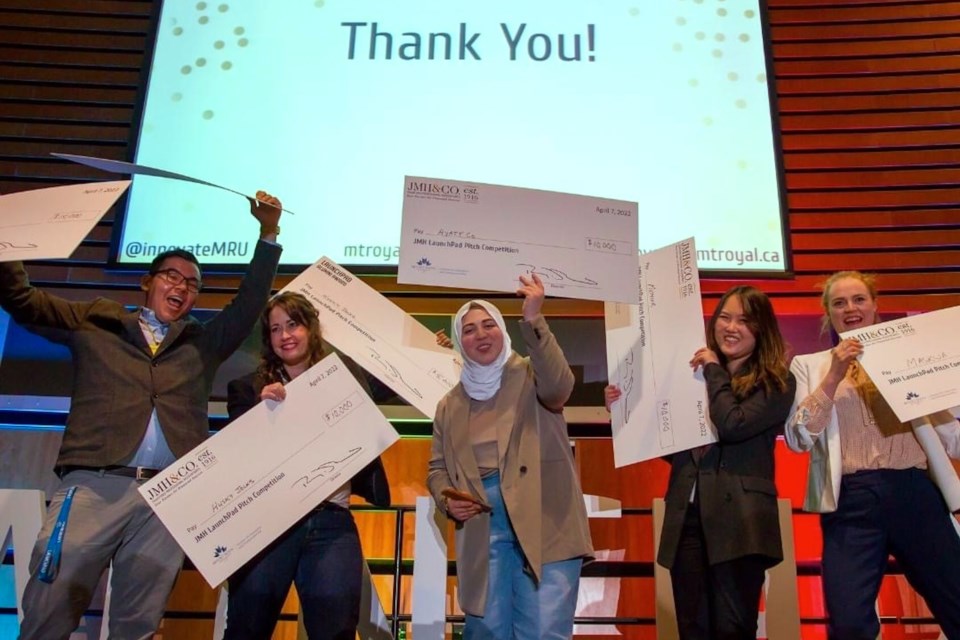 After the high of winning LaunchPad Pitch, she came across a Facebook post about Canada's Total Mom Pitch. She initially felt her business wasn't quite at the right stage to join the nation-wide competition, but then she received encouragement from its organizer.
Since then, she has made it into the top 100 and judges were narrowing down the semi-finalists to move into the top five from April 25 to 29.
"I was so thankful – don't discount yourself at any time and ask questions," Austin said, adding that if she had just ignored the encouraging email from its organizer, she wouldn't be where she is now. "It was a good kick-in-the-pants lesson to learn."
Austin explained that since developing the sizing for her brand, based on a lot of research and prototyping, she is able to develop a variety of products at a faster pace.
"I can easily start crafting swimsuits, shorts, sweatpants, and boxers that align with the sizing I already have," she explained. "There's a lot less research and development time because now I've actually got my sizing, which was my huge issue."
Brands currently offering husky sizes for kids can't outfit a husky kid from head to toe, she added. This is why Husky Jocks has a lot of potential but Austin also realizes she needs to pace herself to get the funds and sales.
Throughout the next year, she hopes to increase visibility of her brand and launch more products. She plans to continue working on expanding the brand and has big hopes for its future.
To order clothing and gear from Husky Jocks, go to huskyjocks.com. To help Austin make it past the top 100 in Canada for the Total Mom Pitch, vote for her at https://totalmompitch.totalmom.ca/entry/vote/DYyLmDzQ