Packing up the RV comes with one major challenge every year: storage. Storing everything efficiently into limited space while keeping it all in place over the bumps along the road can be a challenge. Doing it on a budget is even trickier. Here are a few easy, upcycling do-it-yourself tricks that can help fit all of the essentials into even the smallest RV.
Making Space
Tension rods are inexpensive accessories that can be reused in a variety of ways to increase storage in an RV. Place pressure rods vertically in cupboards to create separators for plates, cutting boards or anything flat and long. Do It Yourself RV has some great uses for tension rods including using them as towel racks and to create a makeshift closet. Tension rods can also be used to hang shower pockets and shoe organizers so the vertical space in the RV can be used as efficiently as possible.
Repurpose hanging closet shoe organizers into handy hanging RV storage compartments. The slots are perfect to hold smaller items for the kitchen like cutlery, dishcloths, and spices. Hang one near the bathroom to keep hair products and toiletries easily accessible. Shoe organizers are easy to hang on removable hooks or with pressure rods anywhere in the RV.
Secure Everything
Packing an RV can feel like an artform. Everything needs to be in its place, but it all also needs to be secured properly for the road trip. That tangle of bungee cords sitting in the garage combined with simple eye hooks are great for securing everything in place.
Use a bungee cord and hooks on a lower cupboard door to install a secured garbage can. Bungee cords are also great to keep cupboard doors from swinging open while travelling. Once you arrive at your destination, the bungee cords can be repurposed as a clothesline outside.
Many Uses for Glass Jars
The Wandering RV blog has a great idea for repurposing glass pickle or spaghetti sauce jars into storage for smaller objects. Fill them with anything that fits like snacks, spices, matches, and toiletries. Use two screws to secure the lids to the underside of cabinets or to the ceiling in an unused corner of the RV. The filled jars can then be easily screwed onto the suspended lid. Everything stays secure for travel without taking up space in cupboards or drawers.
Handy Food Prep
A camping trip is much more enjoyable when most of the food prep has been done in advance. Upcycle That suggests repurposing empty ketchup or creamer bottles and filling them with premixed pancake mix or scrambled eggs. When it is time to make breakfast, simply squeeze or pour your mixture into the hot pan.
Only pack the seasonings you need by putting smaller quantities of spices and dried herbs, including salt and pepper, into empty Tic Tac containers. Consider pre-mixing your favourite spice blend so there are even fewer to pack. Spice-filled Tic Tac containers fit well in suspended glass jars or hanging shower pockets.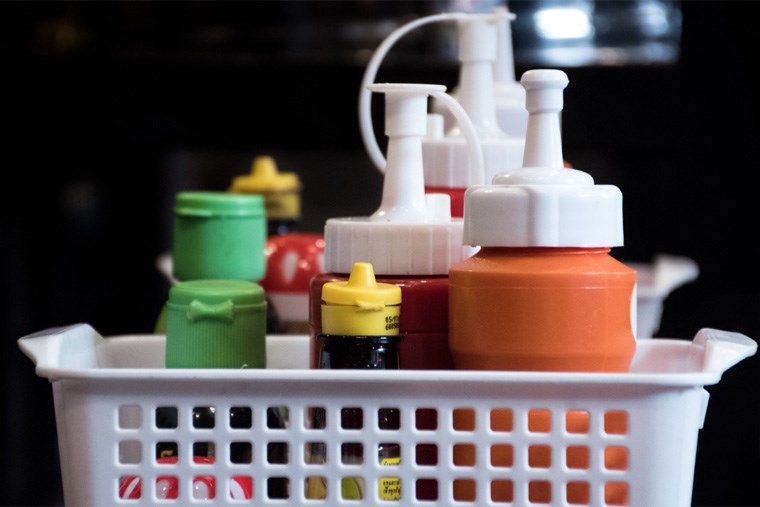 Easy Shower Caddy
Keeping shower essentials handy and out of the way can be tricky. For an easy and effective solution, make an upcycled shower caddy using an empty milk jug. Cut off the spout and one side of the jug, but make sure to leave the handle intact. Shampoo, conditioner and body wash containers can fit snuggly in the opening. Hang it on the shower curtain bar using zip ties. Find instructions with pictures on Learn Along With Me.
Having Fun with Upcycled Storage Solutions
Creating your own upcycled storage solutions can be fun. Think of your own RV storage problems and try out a few creative solutions. Idea-sharing websites like Pinterest can be a great resource to help spark your imagination.
This story is brought to you by Great West Media Content Studio. It is not written by and does not necessarily reflect the views of the editorial staff.