When good friends Kyle and Dave decided to build a business around the beer they loved, they had no idea that their first location would only be open for four hours before the pandemic shut them down. But not even this hiccup has stopped the dynamic duo from simply pivoting and moving forward. Today, 948 Brewing Company is a growing enterprise in Airdrie, with new beers coming out every two weeks. The name itself is a cheeky nod to the past, when all the phone numbers in the area started with 948 before the area code come into effect. Kyle and Dave choose that name because they are adding to the story and growth of Airdrie, one beer at a time.
"We actually started brewing in 2018," says Kyle Wudrich, CEO and co-owner. "We didn't have a space of our own at that time, so we were paying another brewer to make our product. Once we found the right location, we opened in March 2020." He chuckles, "We were open for four hours on the 14th of March before the COVID closures hit."
Even during COVID, however, the friends kept the business going. They couldn't have people on site to enjoy the brews but they kept making, selling and developing.
"We constantly make new beer and put one out about every two weeks, even during COVID," says Kyle. "We love trying new things and experimenting whenever we can."
He and Dave are fully invested in 948 Brewing despite both having full-time jobs elsewhere. As Kyle puts it, "We work full-time, and we run 948 Brewing full-time." They have brought on part-time staff to help with work/life balance but since they both love what they do, they consider the brewery a passion and a fun project that doesn't feel like work.
"We love talking to people in the tap room and interacting with the customers and the community. We get lots of beer tourists and we work with other local breweries to help grow the beer tourism scene. We have such great support from our customers and the business community in Airdrie and we are very thankful for that. Without such robust support, we wouldn't be here."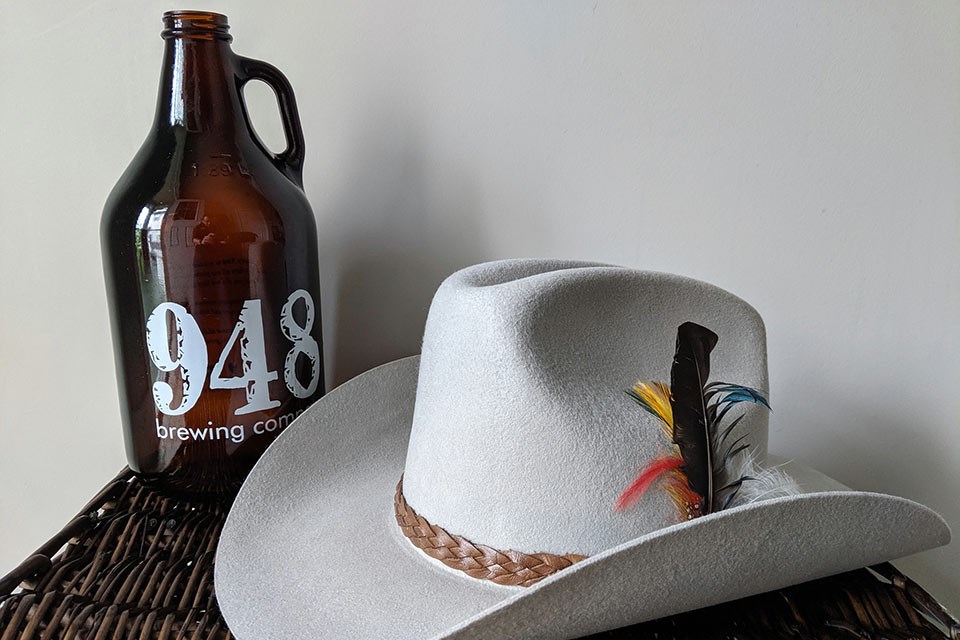 948 Brewing Company is happy to give back to this very supportive community by offering fundraising tastings, donating empty bottles and cans to local youth sports groups and more. Other community involvement includes having a local artist Colin Duffy create memorable art for their marketing campaigns, website and cans.
Kyle and Dave are thrilled to be celebrating another silver Readers' Choice award for best pint, and for their beer and wine menu – marking two consecutive years for this honour.
"Readers' Choice awards are determined by the local community," smiles Kyle. "So, that means we are being recognized by the people we serve. No trophy can top that feeling, knowing you are pleasing the customers and supporting the community."
Where do they go from here?
"Growth!" says Kyle with a grin. "We are trying to get a few more people on our team and in be in a place to brew more beers and get our distribution up. At some point we would love new equipment and a second location. These are all dreams and take some business planning. It takes time, but our vision and goals are clear."
He concludes, "We want to thank the team, patrons and the community of Airdrie – everyone that has supported us in person, online, through COVID and on social media. We also thank Colin for his memorable artwork that enhances our brand."