"Airdrie Meals On Wheels, like many other charitable organizations, was faced with trying to raise funds and keep their public awareness going through the two-year long pandemic," Lois Jones, the group's media and public relations person says. "I have always bought some of my plants through fundraising efforts. The schools and youth groups were all cancelled in the spring of 2020, so I decided we could easily do all the sales online, and we were very fortunate to have a business bay that was perfect for social distancing when it came time for pick up."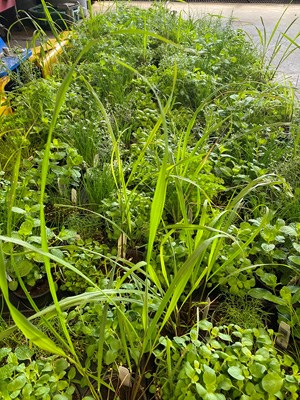 When 2021 came along and the environment was still uncertain, the group decided to go for the second year with a socially distanced fundraiser. A survey was conducted last year to see if the satisfaction of the products warranted a third year. It did and Airdrie Meals on Wheels launched their third annual plant fund raiser March 22nd. You can find the order form on the website at www.AirdrieMealsOnWheels.ca.
During the main restrictive period of the COVID-19 pandemic, Meals on Wheels adapted by dropping off meals in hands-free way. However, the personal interaction was sorely missed. "Its more than food. Clients say, 'you are my one bright point in the day.' For some it is the only interaction they see in days," explains May Geddert, Airdrie Meals on Wheels President.
Geddert continues, "Things are a little bit better, but drivers are still in masks and using hand sanitizer. Some people we deliver to are vulnerable. Some are older and some are sick, so we choose to remain very careful. Now we can say hello to the clients, but some still suggest we use coolers so we can set the meals in them and not come to the door."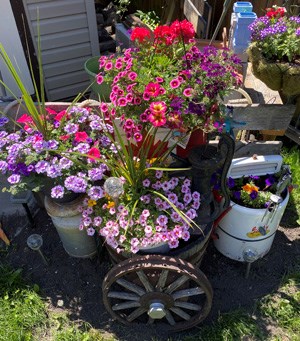 While many associate Meals on Wheels with care for seniors, it is for anyone that needs the service. This includes people just coming home from the hospital, those with limited mobility – anyone that cannot cook for themselves. The meals are subsidized. Clients provide the organization with an income tax receipt and are charged on a sliding scale based on what is affordable for their situation. Fundraising helps close the gap.
"The spring fundraiser is just in time for Mother's Day" Jones says. "Airdrie Meals on Wheels would like to send out a huge thank you to their supporters of this fundraiser, which includes shoppers as well as All Fitts Automotive who graciously closes up shop for the Friday and turns the shop into a greenhouse for the weekend. The one obstacle with a fundraiser of this magnitude is the 48 hours to allow time for the plants to be delivered, sorted, settled then pick up. The donation of space is just another example of how people can support organizations."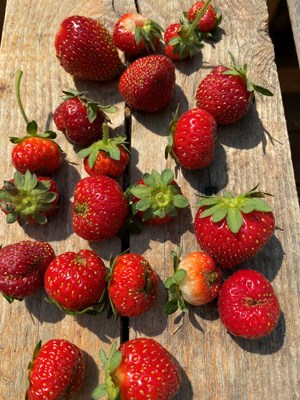 Geddert adds that in addition to the fundraiser, "Volunteers are always needed for drivers and board members. Also, donations can be made anytime."
Meals on Wheels helps those that need assistance with a healthy meal while never losing dignity. The drivers care about each client, and help to ease the loneliness of those that are isolated. The non profit draws volunteers, allowing people to give back to the community they love. The fundraisers are a win-win for everyone involved, and your ongoing donations help to keep it all moving forward. Learn more online, on Facebook and Twitter.