That was, until 2021. While the world was still closing doors due to COVID, Amanda opened the doors to Sweet Williams Co.
"I had lost my job during the pandemic and was considering my options," Amanda explains. "It was my husband who suggested it was time to open the floral studio."
It wasn't just the timing that lined up for Amanda. Her concept for the studio was perfectly pandemic compatible too. Instead of a typical storefront, Sweet Williams has a contactless model that relies on Instagram and social media for personalized interactions with clients. With her business idea, beautiful blooms could be viewed, ordered, picked or delivered all in a seamless way.
"Sweet William is a flower that my mother-in-law always had flourishing in her yard, and Williams is our last name; it just seemed like the perfect fit!" Amanda adds.
Today her dream has come true. Amanda is the founder, owner, and principal floral designer of Sweet Williams. Her home-based studio and Instagram are the foundation of the brand.
"People are not used to this model quite yet," she admits. "It can cause some hesitation. A big challenge is educating and letting people know I am not accessible at all hours, but with some leeway, we can absolutely accommodate last minute orders. I am educating our customers that our model is unique, but it is also flexible and provides an outstanding experience."
That experience has kept the studio growing since day one.
"I offer a very personal connection," Amanda explains. "Since the majority of our interactions are on Instagram, I am able to quickly return messages, connect with clients, and chat with the customer as I build their custom orders. At every step of the way the customer sees what is going on and what they are going to get. It's a VIP experience."
But that's not all.
"We also bring in wedding flowers for everyday purchases. These are higher quality flowers, then paired with our modern design, that isn't typically found in traditional flower shops and grocery stores"
Sweet Williams also offers a subscription service for weekly, bi-weekly, or monthly flowers and a variety of in-person workshops. Additionally, the studio can be rented for groups that want a private class.
"My daughter, who is 4.5 years old, and I offer a mom-and-mini-me workshop," Amanda smiles. "While I teach the parents, she teaches the kids how to do a simple, kid-centric design. She also has her own flower line in which she charges $5 for and donates half of her profits to the food bank."
Giving back is a value the whole family, including Amanda's young children and her husband (who is also a floral designer) embraces. In addition to community giving, Sweet Williams offers Feel Good Flowers, where monthly anonymous nominations provide a flower delivery that makes someone's day.
As the business grows, Amanda thanks Homegrown House and Pantry (now closed) for being a strong supporter and promoter of Sweet Williams. She also thanks Taffeta and Tulle Bridal for recommending Sweet Williams for wedding flowers.
Now, with the dream fully underway, Amanda is ready for the next phase.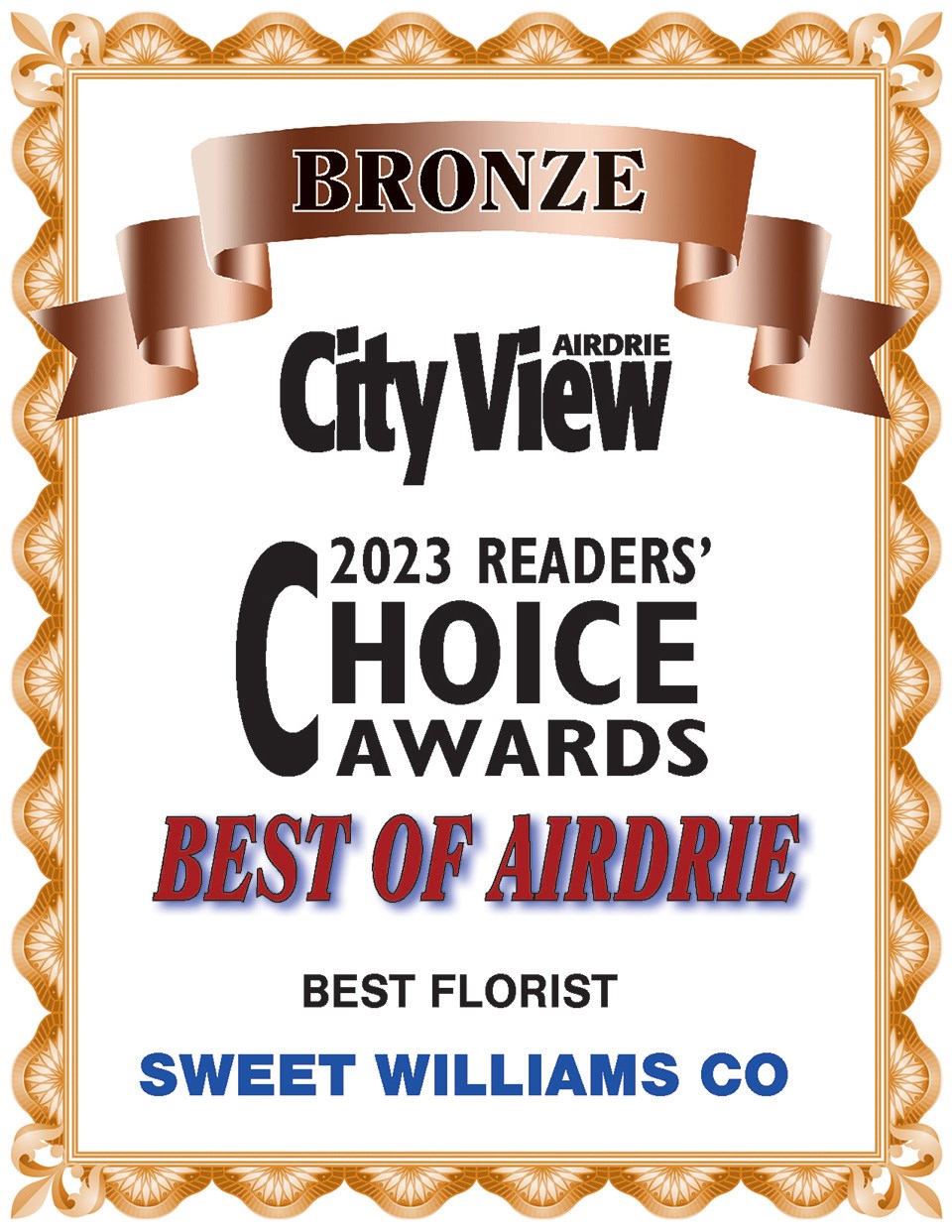 "We are celebrating our 2022 wins in the florist and flower shop and the gift shop categories of the Community Votes Airdrie awards and our most recent Bronze Airdrie City View Best of Airdrie for best Florist. Our new floral studio is nearly complete and includes a stem-by-stem floral bar. The concept of Sweet Williams is unique, and it has been very well received."
"Thank you to my husband for believing in me, and supporting me and always making my dreams come true"
"Thank you to Hannah, for being the best Assistant we could have ever asked for! Choosing you for the position and having you part of the team is absolutely vital and we are so grateful for all you do."
Connect with Sweet Williams on Instagram. You'll also find Sweet Williams online and on Facebook.