Editor's note: This story has been amended to reflect widespread cancellations of events and gatherings of more than 250 people in Alberta due to the ongoing COVID-19 pandemic.
An exchange on Facebook has left some Airdronians feeling as though their voices are not being heard by their elected representative.
Courtney Smith shared a list of 80 actions taken by the United Conservative Party since it came to power in April 2019 in a Facebook post March 4, in an effort, she said, to bring these issues to the attention of her friends and family.
"My mistake – I thought it was posted on a public forum site," Pitt said. "I didn't realize it was somebody's personal page, and I apologized in the post because that was never my intention, to stir anybody up."

Her initial response was to encourage her friend to "fact-check" the list – "It's full of opinion and very little fact," she said. Smith then invited Pitt to correct any misinformation provided within the list, stating she was "absolutely willing to see what is incorrect." However, the discussion was soon derailed when Pitt began defending the UCP's budget.
"Yeah spending reductions were made, these aren't easy choices but you can't be compassionate if it's not sustainable and we are working towards that," her post stated.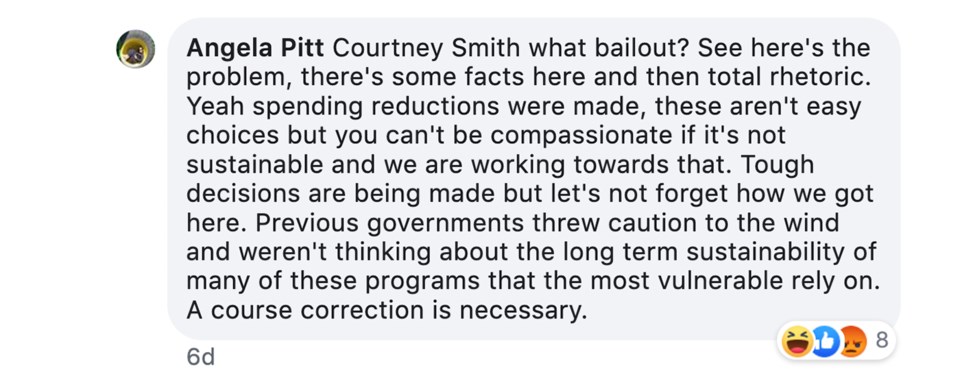 The comment was "incredibly disheartening" for Smith, who said she was particularly disappointed to see "a woman my age, with a family" repeating "patriarchal statements that should have gone out with the Klein government."
"She's in this phenomenal, amazing place in this day and age where we have this global village to reach out and make a huge impact on these very real issues," Smith said. "And I'm not just talking for women, I mean from a socio-economic stance, for children, a really big impact to get out of this antiquated thinking pattern. And it's just perpetuating the cycle."
According to Pitt, the UCP is using a "fine-tooth comb" to examine all government social programs to ensure they are "directly targeting the issues we face in our society" – in an effort to continue serving vulnerable populations into the future.
"But at the end of the day, what I'm saying is that if you don't have any money in your bank account, you're not writing cheques to anybody," she said. "I am a very compassionate person, but we have to make sure our system can support that."
Another concern for many commenters was the "dismissive" tone Pitt used when she did address some of the specific items on the list.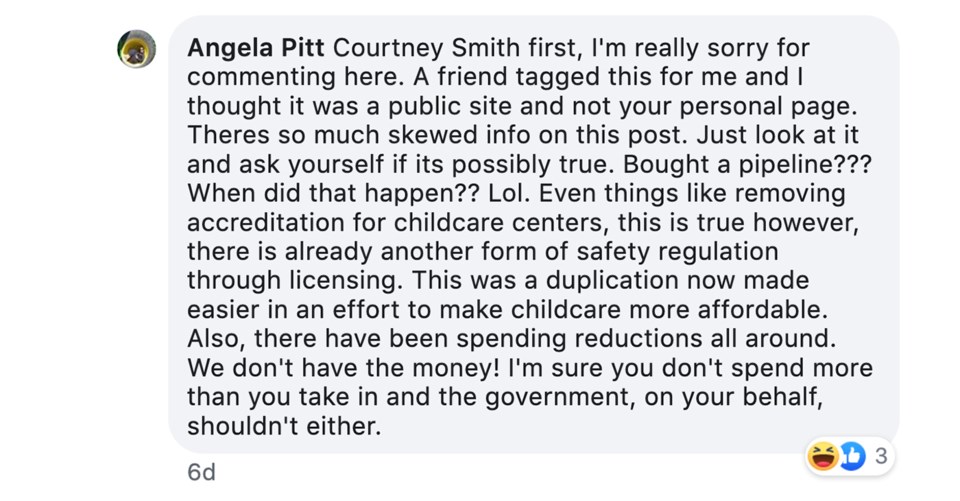 "Theres (sic) so much skewed info on this post. Just look at it and ask yourself if its possibly true. Bought a pipeline??? When did that happen?? Lol," read part of one comment.
Pitt said the reply was meant to be taken lightly, as she was trying to encourage people to think about some of the items on the list more critically – "Does that make sense? Does this pass my own personal smell test?"
To Hannah Storms, however, Pitt's comment felt like gaslighting – a psychological tactic employed by abusers to manipulate their victims into doubting their own memory, perception or judgment.
"Not taking someone's very reasonable comments seriously, throwing it back in their face by laughing at it – it's not very professional, first of all, and it's very dismissive," she said. "She's our elected official. She answers to us, not the other way around. She's accountable to all of her constituents, and to be blatantly dismissed, in a very public way – it's very telling."
While Pitt did go on to provide some clarification to the question of childcare accreditation, she then followed up by saying "there have been spending reductions all around."
"We don't have the money!" she wrote. "I'm sure you don't spend more than you take in and the government, on your behalf, shouldn't either."
According to Justin Dowell, the response was typical of how Pitt deals with issues raised by constituents who aren't necessarily UCP supporters.
"In a lot of cases, when I'm making my concerns known, it just feels like she feels her job is to sell the party line to her constituents, as opposed to bringing the concerns from her constituents to the party," he said. "It feels like it's backwards. And as a salesperson, I know when I'm being sold to."
While Pitt said she takes dissenting opinions into consideration "at all times" when it comes to voting on legislation, Dowell pointed to a specific instance in April 2018, where Pitt and other members of the UCP abstained from a vote on Bill 9. According to Dowell, the issue of establishing protest-free access zones around women's health clinics was something he strongly believed should be supported – particularly by a female politician – but noted despite his efforts to engage with his MLA, she opted not to even participate in the discussion.
"That's my challenge, because [Pitt] also frequently says that she's had no concerns raised by constituents about this, no concerns raised by constituents about that," he said. "I'm a busy person, I don't have time to write an email every single time I disagree with [Pitt's] position on something. But I get really frustrated when I see comments like that when I know that I have been one that has reached out."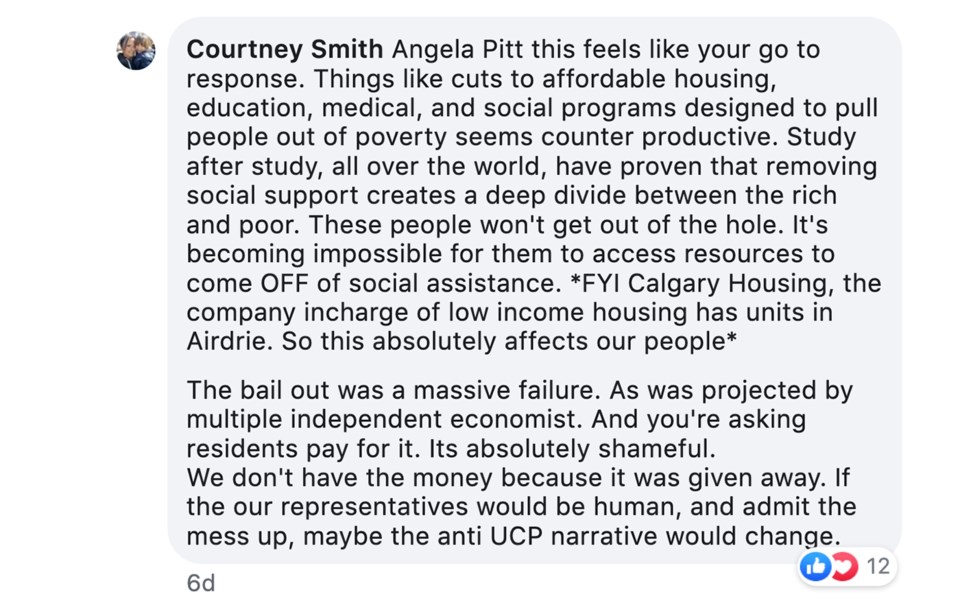 Smith, as well, felt Pitt's comment was her "go-to response," and said as much on Facebook. She added a number of her friends who voted for Pitt are telling her they "don't feel like she's standing up for me anymore."
Storms has organized a "peaceful protest" to voice these concerns to Pitt directly.
March On Your MLA Day
that would have seen participants depart Airdrie City Hall at 3 p.m. and walk to Pitt's constituency office, to deliver a letter outlining the
constituent concerns
on March 13, has been postponed due to novel coronavirus concerns and inclement weather.
A new date for the protest has not yet been determined, but Storms encourages residents to "call, write, email and meet with your MLA's about these issues."
March 13 will see participants depart Airdrie City Hall at 3 p.m. and walk to Pitt's constituency office, to deliver a letter outlining the issues.
Pitt said she welcomes the opportunity to engage with constituents, and is considering addressing the concerns with a Facebook Live broadcast.
"I arm people with as much facts as I possibly can, but it's very hard for me to have thoughtful conversations on social media platforms," she said. "I wouldn't want anybody in the constituency of Airdrie-East to hesitate to reach out to me."
Pitt also encourages anyone concerned about the UCP's decisions to visit the government's website to view the budget documents and the accompanying business plan – "the 'why we're doing what we're doing,'" she said.